Thor Fanndal
The Reykjavík Grapevine – our local English daily – has just published a fantastic cover feature on Iceland's space sector; past, present and the future. We urge you all to check it out and spread some love and enthusiasm for the papers fantastic coverage. It is somewhat rare in Iceland to get a feature on space this size. Obviously, we feel that Space Iceland has contributed to greater enthusiasm and a higher number of news articles on Iceland's role in space science and tech transfer.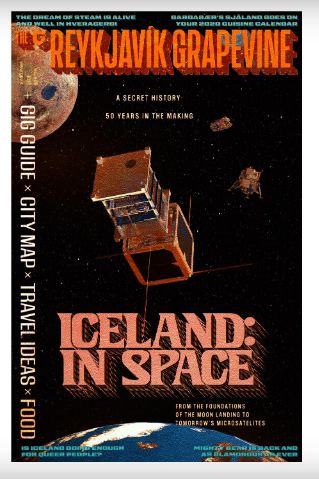 The Grapevine speaks reached out to Minister of Science and education, Lila Alfreðsdóttir on her role on the ESA talks and how she is contributing to the development of Iceland's space sector. "Space research and science is appealing for many reasons, both educational and practical," she told Grapevine. "It helps us grapple with the fundamental questions about our place in the universe, the history of the solar system, and future opportunities. Space is a world without borders, it encourages international cooperation and, hopefully, peace in the long term. The practical applications of space have made our lives easier, created job opportunities, and orbital satellites have certainly been used in one of the biggest challenges faced by our planet: the effects of climate change."
While Lilja admits that establishing an Icelandic Space Agency "has not been discussed" within the government, she points out that Iceland joining the ESA "has been encouraged by Parliament," although Iceland's entry has yet to become a reality.